Rustler
This Rusy has been customized all the way.

Hand made rear shock tower.

Losi XX steering with ball bearings.

Losi XXT top shaft with double slipper and plastic traxxas top gear.

Lightined chassis renforced with cabon.

Ball diff.

XXT front and, rear end.
Below is the most resent pic.
Losi steering setup. (Below)
This took me one to two weeks to get right. I startd by gutting the top plate of all the stock bellcrank parts and posts. Than found a old servo to mock the steering for clearence with the server turned 90deg. to its' stock spot. After, I drilled out holes to put bearing keepers off a stock Losi top bellcrank that were cut out. With those in place, I made some towers to run along side the bellcranks to mount the top keeper.
All this cures things like,
Bump steer.

Steering end points.

And, binding.
Lightened to it's full amount.

I plan do do some more R&D to the truck soon. So, keep looking for updates on this page.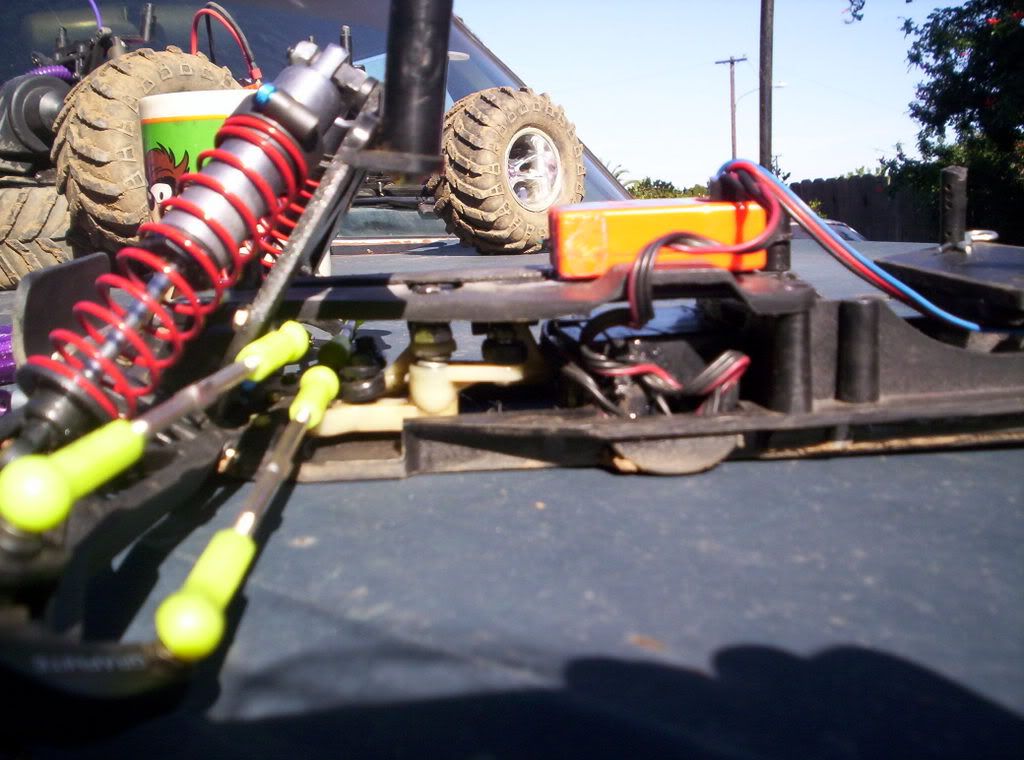 Trans. and rear tower (bottom shot)
The cabon shaft is many cut parts glued and sanded to shape. Derlin top gear, alum. idler, and ball diff. round out the driveline. The case is mounted from the inside to a Losi XX motor plate.
Rear shock tower was also from a XXT. Its' been cut and grafted to a lower plate bolting to chssis to the trans. The ball studs are mounted downward though the plate.